Ms. B. HAVEN
BAND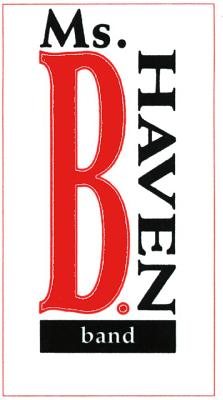 Chicagoland's Premiere Classic Rock Band
The three original members of this seven piece band have played together for over thirty years! Their repertoire covers classic to current rock the likes of: The Eagles, Santana, Kansas, Joe Cocker, Steely Dan, Eric Clapton, Boston, Doobie Brothers and U-2 as well as tasteful original music written by all band members. Ms B. Haven performs regularly at clubs and festivals in the Chicago metropolitan area and they are also available for private events. This is one of Chicagoland's Outstanding Premier Rock & Roll Bands. Call the Ms.B Haven hotline at: 1-847-551-9335.
You have got to check them out! They are absolutely amazing!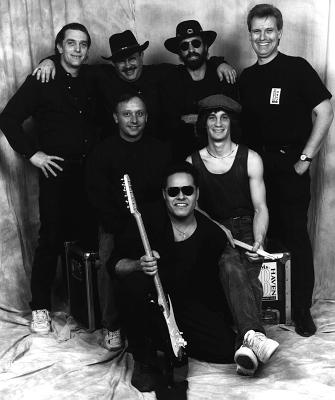 Back(left to right)- Dave, John P., John G., Brian
Middle- Mark, Mike
Front- Joaquin
Band Members

Mark Newman - Guitar, Vocals
Mark is one of the three original musicians that have played together for the last 33 years. Their first band, "The Proper Strangers" (later shortened to "The Strangers"), started in high school. Mark studied guitar at Chicago Musical College - Roosevelt University, and is an exceptional player as well as a gifted song writer. Ms B. Haven plays three of his compositions, "Time Will Tell", "The Band's Alright" and "Let Her Go" .

John Piccolin - Lead Vocalist, Percussion
John is also an original member of the three musketeers. John originally was a drummer/vocalist with "The Strangers" but then decided to quit carrying ALL THAT DRUM EQUIPMENT and concentrate on Latin percussion instruments and especially his fine lead vocal ability. John is a truest in vocal arrangements and he, along with Mark and Johnny have perfected their vocal blends. They have also included the other band members in their vocal arrangements which has enhanced the huge sound of this band.

Mike McCarron - Drums, Vocals, Sound Engineer
Mike is one of the finest drummers in the Chicagoland area. His drumming style is unique and his versatility is unbelievable. Mike has played and recorded with many area heavy metal players including recording artist, George Bellas. Although he enjoys the metal scene, his adaptability to play material that Ms. B. Haven incorporates is just another feather in this fabulous musician's hat. Mike also owns his own recording studio and is a fantastic sound engineer.

Dave Little - Keyboards
Dave is one of the "Hottest" keyboard players around. He plays with a style that gets people on their feet. Dave started with classical training and has become a rock & roll phenomenon. He can play licks that are so tasteful that he has been told he is a musicians musician. He also has great stage presence and doesn't stop hoppin' till the shows over.

John Gattuso - Guitar, Vocals
Known as "Johnny" by the rest of the band, John is one of the three original members and plays rhythm guitar and vocals. Johnny is the one with the great falsetto and handles all that real high stuff. Johnny is also one of the bands vocal arrangers. Johnny has been playing for many years and has made a commitment to be the best. He is a true entertainer and keeps the pulse of Ms. B. Haven pounding strong.

Joaquin(Wakko) Mercado - Guitar, Vocals
Joaquin originates from the country of Bolivia. He is one of the finest, tasteful guitarist's and song writers around. Come to a gig and we'll play a few of his songs for you. You'll be blown away! Joaquin also holds a Masters Degree in International Trade. The man is one talented dude! He's has become an integral part of this band with his outstanding guitar solo's and strong vocals. And what a showman! Joaquin has been known to jump off stage and play his ax IN YOUR FACE!

Brian Peterson - Bass, Vocals
Brian handles the low end of the rhythm section. He has been one of the members that has helped this band through the tough times. A truly wonderful individual and accomplished player. Brian can be counted on when it comes to just about anything the band needs. He sings well too! When your out there dancing to the band, it's his pulsating bass tones that you'll feel!


For performance dates and locations
CALL THE MS.B.HAVEN HOTLINE AT:
1-847-551-9335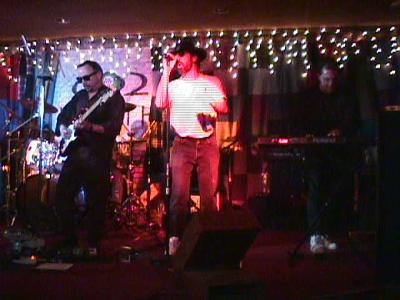 For a MP3 of their music, please e-mail me at:
asantor@hotmail.com